OHP Spectro Star Party 2020
Every year, Association Aude and Shelyak Instruments organize the Spectro Star Party at the Observatoire de Haute Provence, in St Michel l'Observatoire, near Manosque in southern France.
The event is canceled for health organization reasons due to COVID-19
This event is an opportunity to observe in exceptional conditions on a closed and privileged site: you will be able to set up your equipment on the ground and leave it in place for the following nights.
The spectro party begin in (UT)
Number of registered participants
OHP
Observatoire de Haute Provence
OHP Spectro Star party 2018
04870 Saint-Michel-L'observatoire
(F) France
Location of the observatory in south of France
Beginners in spectroscopy are particularly welcome !
The first 28 places are reserved for beginners who have not yet been able to participate in this spectro party for registrations made before march 31th. People who have already participated in a spectro party can register but will be put on a waiting list in order of registration and their place will be definitively awarded after May the 1st.
So much so that this year, we have decided to offer, within the Star Party, a training course for those of you that interest. It is a matter of accompanying the beginners in spectoscopy by an experienced observer, in small groups (5-7 people, according to the inscriptions), as well during the observations as for the data reduction.
If you wish to take advantage of this training course, please indicate it on your registration form (specifying the type of instrument you are interested in). We invite you to come without an instrument : you will work with your animator. On the other hand, take your laptop (if you have one).
You can of course bring your own equipment and install it in the area reserved for the spectro party, it is recommended that you have a good knowledge and mastery of your setup (setting in station, pointing a target, autoguiding) and of course the various drivers and softwares are installed on your PC and check they work well.
Introductory sessions for beginners in Spectroscopy will be offered, as in previous years, with (if necessary) separate French and English sessions.
Conferences are offered in the afternoon, in French or English, on Astrophysics. The full program will be sent to you later.
The night is devoted to observing the sky, whether you are an amateur or a confirmed astronomer, with or without a telescope, you will have the opportunity to practice or to see how to practice the spectro.
Each year, the course brings together people from very different backgrounds (France, Switzerland, Belgium, United Kingdom, Germany, Italy, but also regularly from far away (USA, Australia, China …) Exchanges are usually in French or In English, all in a great conviviality.
Of course, we are in France and we do not forget meals: breakfast for residents, lunches, afternoon snack, dinner and night snacks for observers and night birds.
You may not have time to do everything, because there is also a swimming pool on the site, hiking trails in the scrubland around the site, singing cicadas, some opportunity to take a nap … It will give an excuse to return the following year.
Hurry up ! Registrations are quickly completed.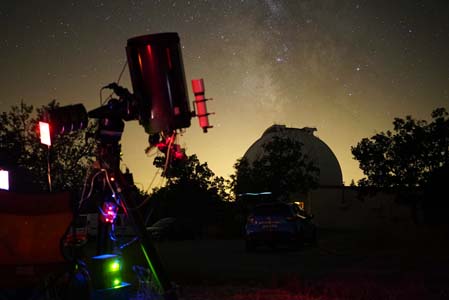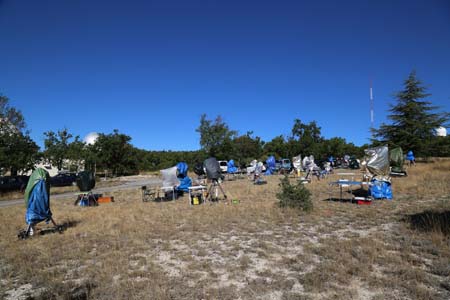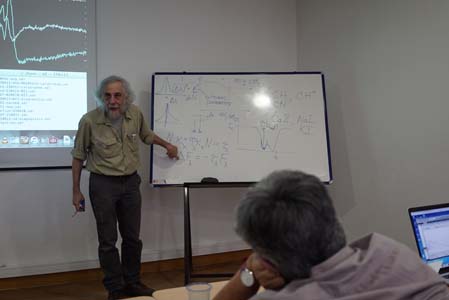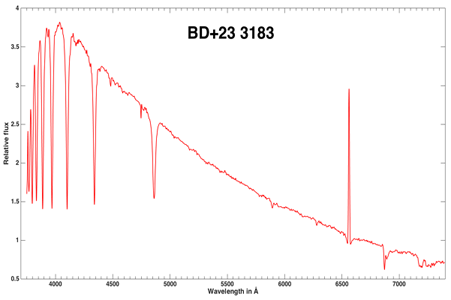 The proposed rates are as follows :
Full board in single room : 496,00 €

Full board in 2-bed room : 412,00 €

Full board price with sleeping off site, version offered to good hikers because the site does not accept the cars at night (to avoid any light pollution) : 270.00 €

No room, no meals : 50,00 €
Thank you for filling in the form and replying by email. We will need to receive your payment by bank transfer for complete validation.
We remind you that beginners who have not yet participated in a OHP spectro party will have priority for the first 28 registrations until March 31th and that the total number of participants is fixed at 50 (maximum capacity for meals at "maison Jean Perrin") . People who have already participated in this spectro party will be until March 31, put on waiting list in the order of arrival of the inscriptions. For people who have not taken accommodation or meals, it's reminded that Camping on the site is forbiden.
Time Lapse video : Ambience at spectro party (duration 4'37)