Note: it is recommended to procure complete Dome Kit or Roll-off Roof Kit depending on your need. Those kits includes cables and sensors you would need.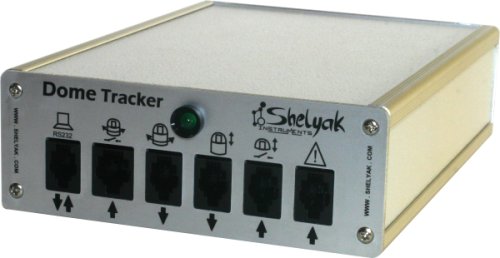 Dome Tracker has been designed by Cyril Cavadore to automatise movement of your dome or roof. It inserts between your computer (controling your telescope and other accessories) and your motors controler of your dome or roof. Dome Tracker can send signal to open and close your shelter, include an urgency closure input associated with a security input (to ensure your telescope if parked for a roll-roof for exemple)… It allow to enslave your dome with your telescope movement during go-to and tracking. Dome Tracker can be install on an existing observatory or a new one.
A discussion group, in french for the moment but english is welcome, has been setup for people to share their experience. Subscribe on:
http://tech.groups.yahoo.com/group/DomeTracker/
See for some exemples of user installation of their own Dome Trackers:
Interfaces
| | |
| --- | --- |
| | The Dome Tracker is connected to your PC with a RS232 serial interface. Your PC is controling your telescope and other accessories wihtin PRISM software or any software that can interface with an ASCOM dome driver. Your software is controling telescope and dome and ensure continuous alignment between the two during Go-To and tracking. |
| | A rotation coder and an index capter allow the system to know what is the actual position of the dome. Coder/capter setup depends on your dome and equipment but several users have shared their tip & trick on our discussion group. |
| | Connect your Dome Tracker to the controler for your dome rotation motor. Dome Tracker is acting like a switch which tell the motor to go right or left. |
| | The Dome Tracker can also send a signal (for a given period of time) to the shelter motor to open or close it. |
| | For roll-roof, to switch will stop the Dome Tracker of opening or closing the roof. Dome's shelter end of movement are not mamanged as, in most cases, this is managed internally on the dome with security and radio-based signal (no firm connection with the base of the dome to allow continuous rotation of the dome. |
| | A special input is dedicated to an urgency stop or a weather monitoring system that can tell the Dome Tracker to close your observatory. A security is included to tell the Dome Tracker if the telescope is parked so that the roll-roof doesn't hit the telescope when closing the roof. |
Options
Base system is a Dome Tracker, a serial cable (5 meters) and a cable (3 meters) for the urgency closure system.
A cela, vous pouvez ajouter un des deux kits suivants:
kit dome: inductive capter (zero position of the dome), 128 pulses/rotation coder, associated cable (3m), rotation motor cable (3m) and shelter open/close system cable (3m).
kit roll-off roof: two switch and associated cable (3m), cable for the motor control system (3m).
The Dome Tracker requires a 12V power supply. It does include internal relays for electrical isolation.
The Dome Tracker can be driven by ASCOM driver or directly in Prism (not provided, version 6 or 7 for latest functionalities required). A test software is also provided; it will allow you to test all your connection when installing your Dome Tracker and to properly parameter your system.
The Dome Tracker can work in two different modes: DOME or ROLL-ROOF:
In DOME mode, the dome will first rotate to find its zero position; positions is then tracked with a angular coder. Shelter is managed by a signal sent to your system (can be radio or other depending of your setup).
In ROLL-ROOF mode, the Dome Tracker will send signal to your motor controler until end-of-position switchs are activated.
User Documentation Download user documentation in PDF format (english version starts on page 33, chapter 10). It does include operating principles, schematics, test software use, PRISM software use… Wiring schematics – mode DOME – mode Roll-Off ROOF Software