PF0021VIS – LISA (visible domain)
4 260,00 € incl. VAT - 3 550,00 € excl. VAT
LISA is the High Brightness spectroscope ideal for weak objects : novae & supernovae, planetary nebulae, comets, symbiotic stars, cataclysmic variables stars, galaxies …
LISA is also available in near Infra-Red version.
A high luminosity spectroscope
The LISA spectroscope is particularly dedicated to the spectroscopy of weak objects such as comets, novaes, Supernovaes, weak variable stars, redshift of distant galaxies or quasars or confirmation of planetary nebulae.
Its optical design has been particularly studied for the observation of this type of objects with a specially designed optics. Its calibration module (optional) makes calibration very easy thanks to an Argon / Neon lamp which provides a large number of emission lines over the main spectral range of LISA. This same module is equipped with a Tungsten lamp to produce flats.
A wide spectral domain
With a resolving power R = 1000 with a slit of 23 μm, its spectral range covers the entire visible range between 400 to 700 nm, see more on near UV and near IR.

Example of raw spectrum on BD + 59 2829, a star Be of magnitude V = 9.9 obtained with a LISA
The near infra-red version makes it possible to obtain spectra between 650 and 1000 nm.
Aperture
The LISA aperture f/5 makes it particularly suitable for weak objects, it can be installed on telescopes or refractor natively to f/5 but also on any type of telescope Schmidt Cassegrain or Ritchey Chretien using a focal reducer to reduce the native focal ratio of this kind of telescope generally to f/10 or f/8 at a focal ratio close to 5.
Autoguiding system
Thanks to its reflective slit, the Lisa makes it possible to position and hold the target in the slit with precision. A guiding camera (not supplied) allows to enslave the movements of the telescope (autoguiding), and ensure optimal observation.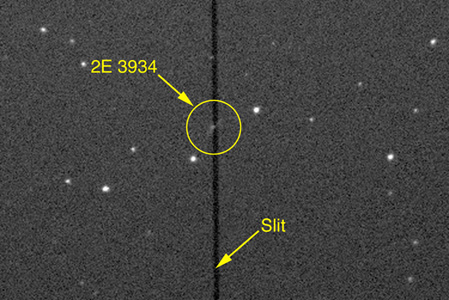 LISA autoguiding sensor field with vertically positioned slit on a Seyfert galaxy
Interchangeable slit
The interchangeable slit supplied as standard (15-19-23-35 μm) makes it possible to adapt the instrument to all observational situations, giving priority to resolution or brightness if needed. Other slits are also available as options (wide slits, photometric slits), to further extend the possibilities.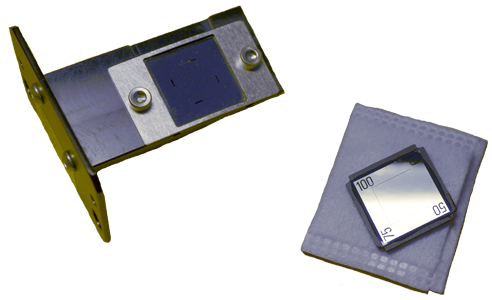 Mechanical interfaces
The LISA comes with a 2″ (50,8mm) ring adapter, the ring can be removed and replaced by a M42x0,75mm (T2 or T-mount) thread, for mounting on a Schmidt-Cassegrain telescope ( 2″ thread), you will need the BA0027 variable T-adapter. The interface with the acquisition camera is also in M42x0,75mm (T2 or "T-mount") with a backfocus of 54,9 mm, the guide camera is in C mount with a backfocus of 17,5 mm .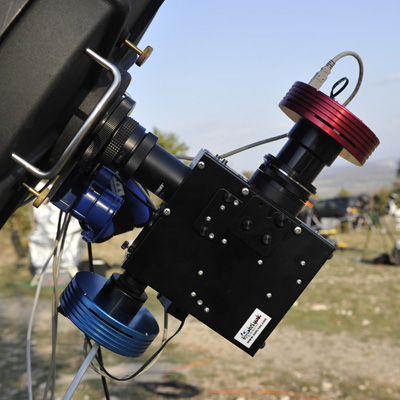 For ATIK camera.you need a ring of 13mm (Mechanical backfocus – 13mm). We offer a wide selection of adapter rings in our accessories catalog.
Go even further with LISA
Beyond the knowledge that LISA can bring you in the domain of astrophysics, it is also a tool for collaboration between amateur and professional astronomers : study of nova, supernovae, comets, symbiotic stars, confirmation of planetary nebula …
Many scientific publications have been made on the basis of observations with a LISA like this one : https://arxiv.org/pdf/1705.00076.pdf

Other publications or first spectra are made very regularly with LISA such as :
http://www.astronomerstelegram.org/?read=6355 http://www.astronomerstelegram.org/?read=9377 http://www.astronomerstelegram.org/?read=10737

Spectrum of a Seyfert galaxy (z = 0.061) of magnitude V = 15.2 with a LISA
The support of a large community
LISA is used around the world and you will find many examples of use as well as tips on the spectro-L mailing list : http://groups.yahoo.com/group/spectro-l/ or on the spectroscopy forum :
LISA is a low resolution high luminosity spectroscope F/5, R~1000. This is the basic module for visible domain observation (400-700nm). It is sold with a a custom-foamed carrying case.
Collimator F=130mm F/5
High efficiency thanks to focal reducer
Power of resolution R ~1 000 for 23 µm slit
300 tr/mm grating blazed at 500nm
Visible range (400-700nm)
Slit 15/19/23/35µm
Slit length 4 mm
Weight: 1.4kg
Telescope interface M42 (T-standard), backfocus 41 mm
Acquisition camera interface T mount standard, M 42 * 0.75, backfocus 54.9 mm
Guiding camera interface C mount, backfocus 17.5 mm