Star'Ex Low Resolution Optical Kit
Star'Ex Low Resolution (LR) optical kit: all the optical elements to make your own Star'Ex LR instrument, and make your first star spectra.
Complementary near infrared (IR) available too, to observe more horizon

Optical kit Star'Ex LR – ES0032 : 594€ TTC
Complementary optical kit IR – ES0033 : 492€ TTC
With Star'Ex LR (Star'Explorer), make your own spectrograph yourself to obtain the spectrum of low-brightness stars and also objects such as comets, galaxies, quasars! A special feature of Star'Ex LR is to show the entire visible spectrum (from blue to red) in a single shot.
Star'Ex is a project proposed by Christian Buil, in line with Sol'Ex. A dedicated site gives you all the information you need to assemble and operate this instrument. You manufacture the parts in 3D printing (or have them made by a specialist), then you assemble the instrument with the optical elements of this kit. All the optical elements needed to make a Star'Ex LR are included in this kit: slit, grating, lenses, guide elements, etc. You can find more information about the Sol'Ex & Star'Ex project here.
Example of spectrum obtained with a Star'Ex LR – VIS :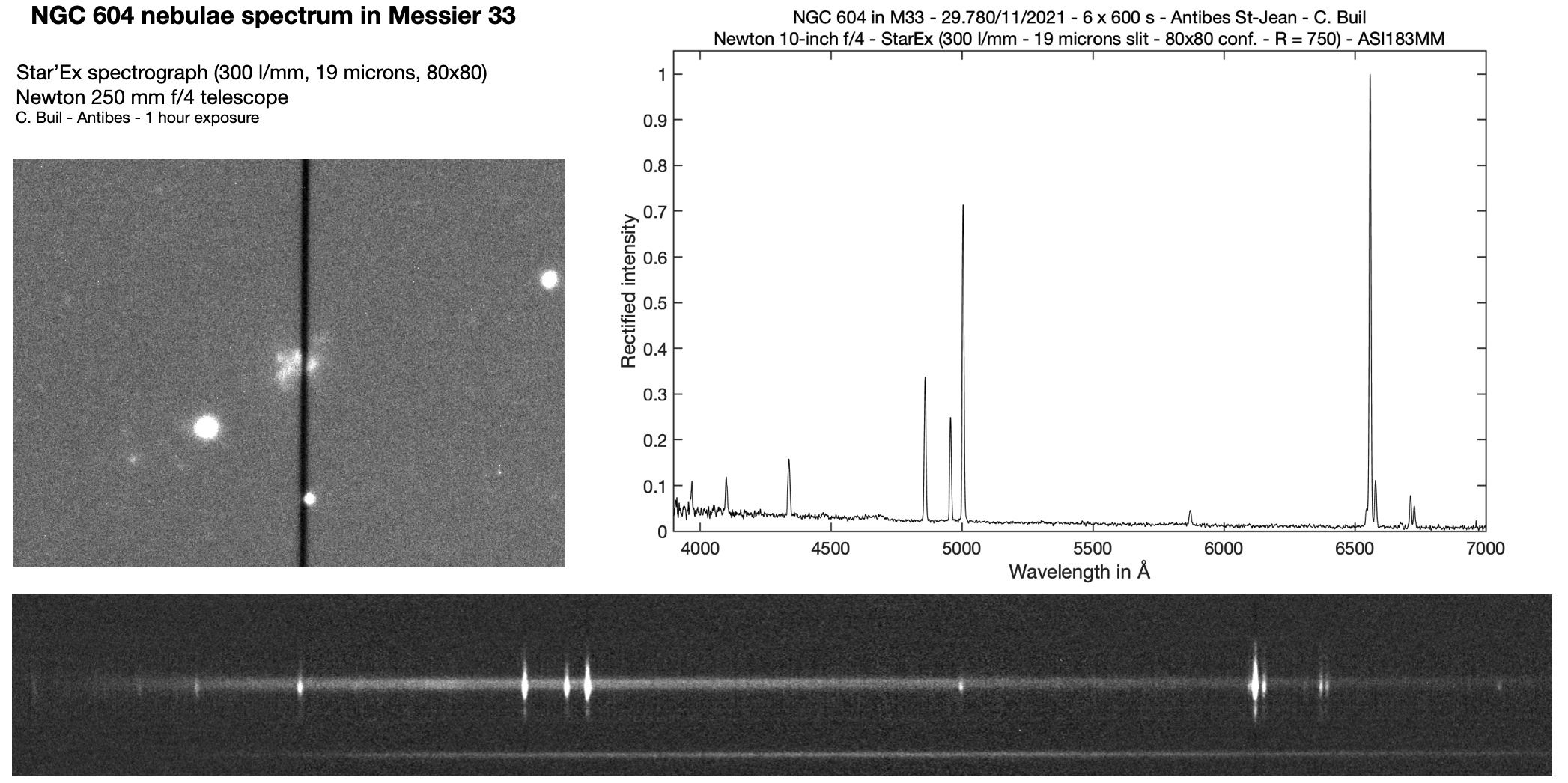 Example of spectrum obtained with a Star'Ex LR – IR :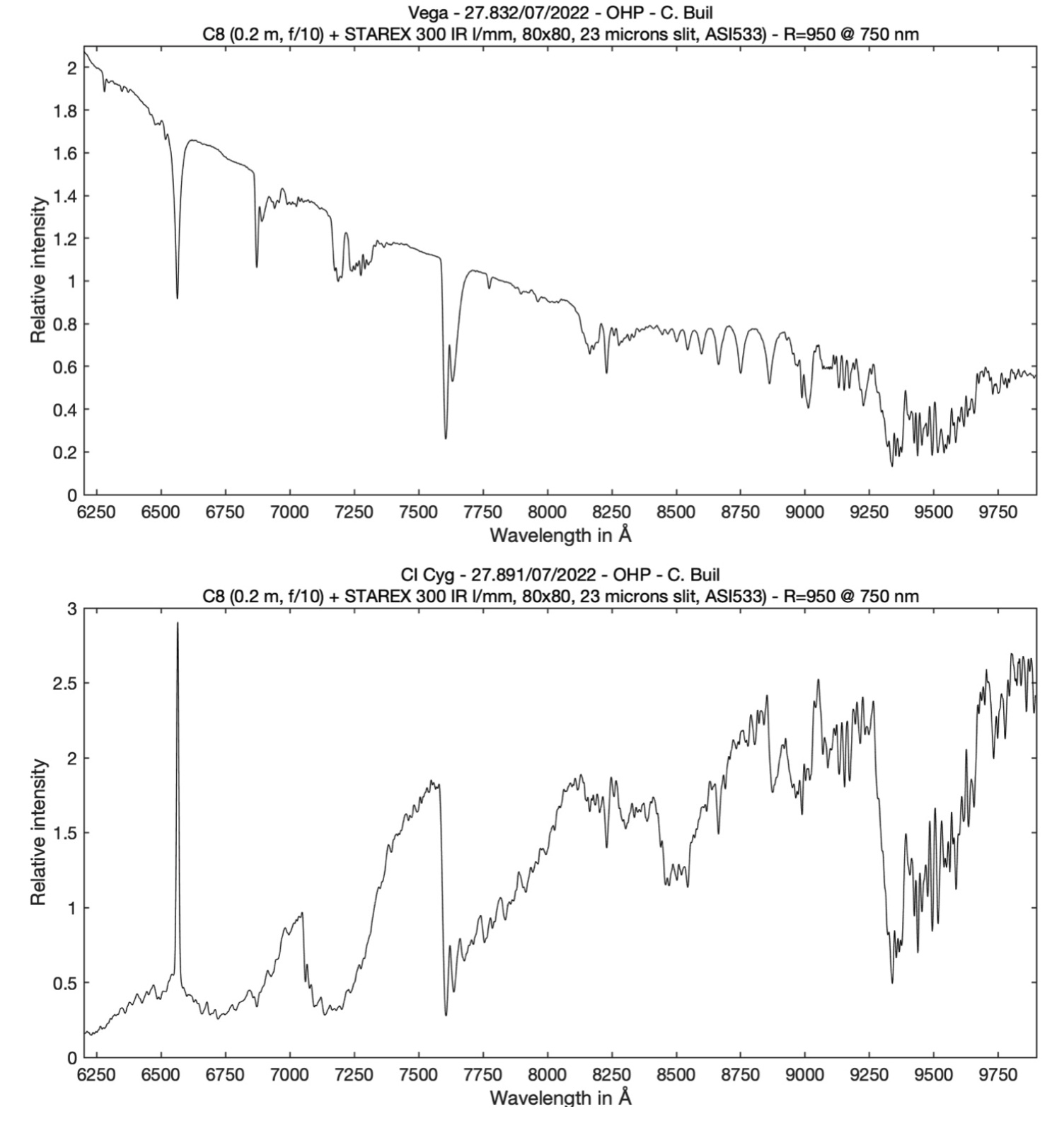 Star'Ex LR optical kit – VIS
[OP0158] 300 gr/mm grating blased at 500 nm
[OP0080] Two doublets with a diameter of 12.5mm and a focal length of 50mm
[OP0010] Mirror of 15x15mm thickness 3mm
[SE0116] Multi-length slit 4 positions of 15/19/23/35 µm
[OP0176] Doublet with a diameter of 25.4mm and a focal length of 80mm
[OP0182] VIS doublet optimised for visible range with a focal length of 80 mm
Optical kit (additional) Star'Ex LR – IR
[OP0167] 300 gr/mm grating blased at 1000 nm
[OP0184] Order filter of 25mm in diameter and 2mm in thickness
[OP0183] IR doublet optimised for infrared with a focal length of 80 mm
Resolution @650 nm: R = 650 typical with a 23 micron slit (R = wavelength / spectral sharpness)
Wavelength range:
For Star'Ex BR – VIS: 400 nm – 700 nm
For Star'Ex BR – IR: 650 nm – 1000 nm
Internal reduction ratio: 1:1
Collimator and lens both have an 80mm focal length
With a small telescope, you can make spectra Low resolution on weak objects (stars, nebulae, galaxies, Quasars etc.), i.e. you will be able to observe the entire visible range, and distinguish the continuum of the object (which indicates its surface temperature), as well as very many lines in absorption, or in emission (signs of the activity of the star).