Astronomical spectroscopy for research, industry, education and leisure
The software that just makes want to do spectroscopy!

Like Simplicity? Demetra manages acquisitions AND data reduction, as well as spectra plotting.
Like to share? Demetra allows you to show your spectra right after the acquisitions.
Are you a little forgetfull, or have you mind in the stars? Demetra will help produce quality spectra. What's more, Demetra will remind you if any element is missing before closing the session, Demetra will guide & help you every step of the way.
Are you a rebel? Demetra also knows how to be forgotten and gives you the full control of the observation. You are the boss.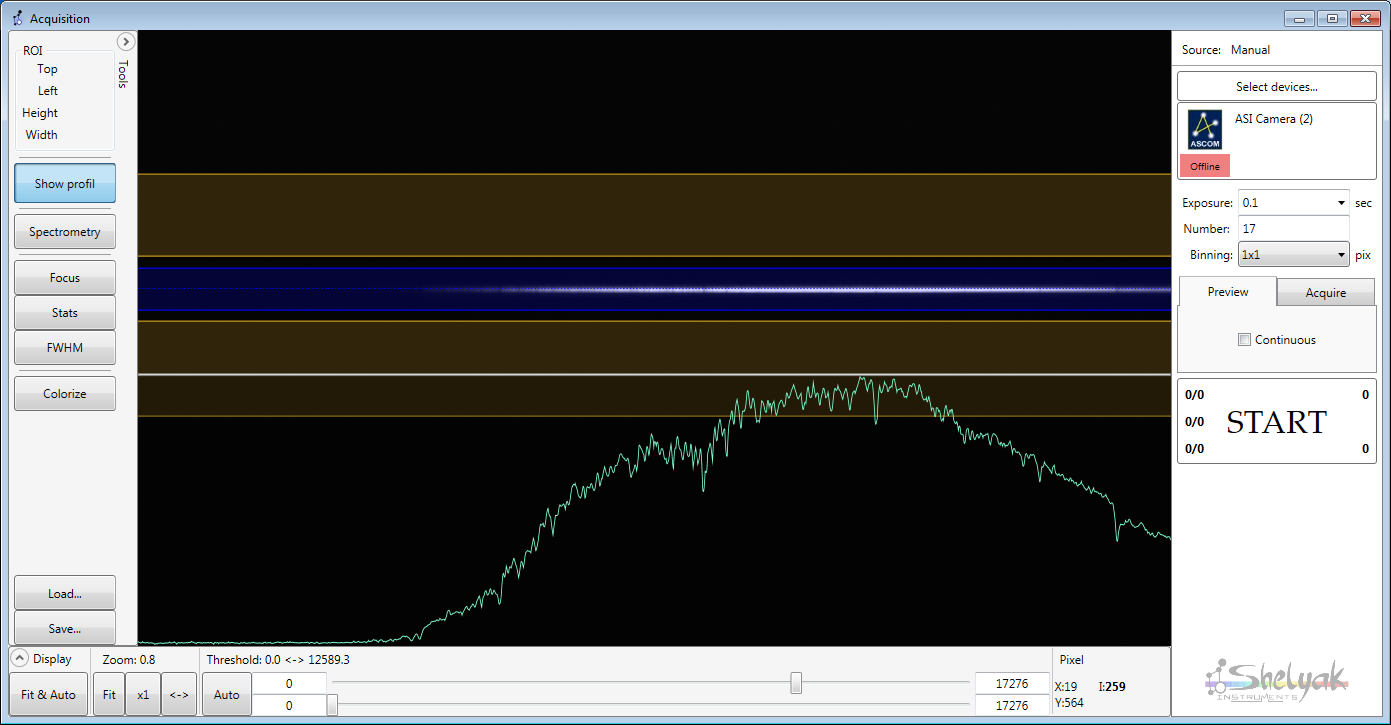 Developed by Shelyak Instruments, with the Alpy 600 in mind,
Demetra is a new way to produce high quality spectra – It's never been easier!
Why Demetra ?
We work tirelessly to make the spectroscopy easier and more accessible to as many observers as possible. Our experience in helping newcomers showed to us that the data reduction – which consists in extracting the scientific information from raw images – is a complex phase for most of us. We wanted to create a tool which simplifies this task greatly, and brings a helping hand during your observations.
With Demetra, we have some ambitious goals:
– The software needs to HELP the user during the observations, and let him choose how to work.
– The software needs to accompany the observer from acquisitions, up to the data reduction.
– The data reduction must be simple enough so that it is made in a few seconds and a couple of clicks, immediately after the observation. Let's stop with the raw images which sleep on your hard disk, while waiting for to be exploited… one day… maybe.
– The simplicity must be obtained without sacrificing the scientific high quality of the results. Demetra will help the observer to get the best out of his instrument.
– The data reduction must be strongly automated, but the observer stays in charge every step of the way. No "black box", no secrets. not understanding how it works. You keep the control, and you are always responsible for the results you produce.
What is new with Demetra ?
These goals led us to new methods and solutions to help you during observations.
First, the data reduction process is the core of Demetra. This process defines the required images, and organize them in a simple and visual way. This also ensures a high scientific quality of the result.
Then, Demetra does not only produce (or use) images, but manages whole observations. An observation is a consistent set of images : target spectra, of course, but also reference images (bias, darks, calibration, and so on). Demetra uses a simple color coding to quiclky see what element is missing. With Demetra, there is one golden rule : if all indicators are green, it means I've finished the acquisitions, and I can go to bed!
On top of that, Demetra embeds an electronic log file, that allows you to record any useful information during the observing session.
Finally, Demetra offers a full set of tools available from the acquisition step: display the different areas in the image, real time profile display, automatic saturation detection, and so on.
Last but not least: Demetra is FREE. Then, you can test it, install it on several computers, share it with your friends.