Astronomical spectroscopy for research, industry, education and leisure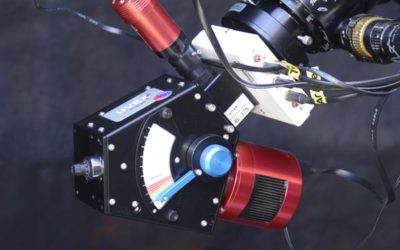 UVEX is a multi purpose spectrograph allowing spectra to be performed in the near IR and near UV domains but also on weak targets.
read more
Shelyak instruments: expert in spectroscopy
Shelyak Instruments designs, manufacture and sell for more than 10 years a full range of spectroscopes dedicated to Astronomy, for Research, Industry, Training and Leisure. If you are just curious or experimented observer, we have an instrument for you. We can also adapt these products, or even create new ones on your specifications. We sell all over the world, directly from this website, and also through our resellers worldwide network.
This website gives you all technical information on each instrument, but also a lot of informations on the spectroscopy principles, ideas for project, reference data, and so on. We're proud to be a dynamic actor of the growing community of spectroscopist, and we want to better and better answer to your needs. If you don't find the product or the information you need on this website, please contact us directly.
Secure payment
Several ways are available:
credit card, PayPal, Wire transfer
Products tested and guaranteed
Each product is tuned and tested before shipment. And it is guaranteed for one year.
Expert advice
You need an advice ?
Our experts can help you !
Contact us by mail, or at (33)4 76 41 36 81
Subscribe to our newsletter