Remote control module for the Alpy 600, LISA and LHIRES III spectrograph calibration lamps.
SPOX is a small module for remote control flat and calibration lamps for Alpy, Lhires III and LISA.
This can be done manually, near the telescope (if you are in mobile configuration for example) or through your computer, by a USB cable – whether on Windows or Linux.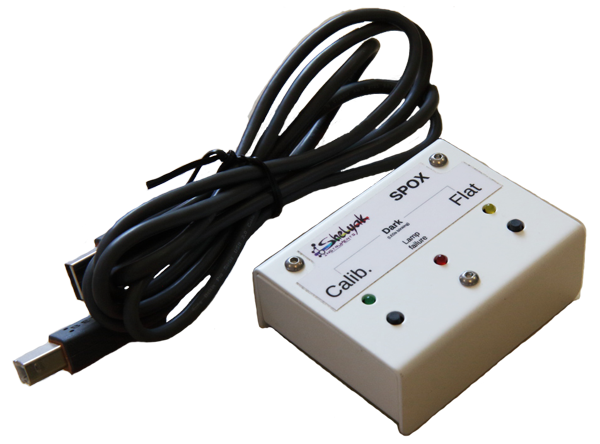 Manual control near the telescope is simply done using the SPOX pushbuttons. Each button controls either the halogen lamp for the flats or the Neon / Argon lamp for spectral calibration.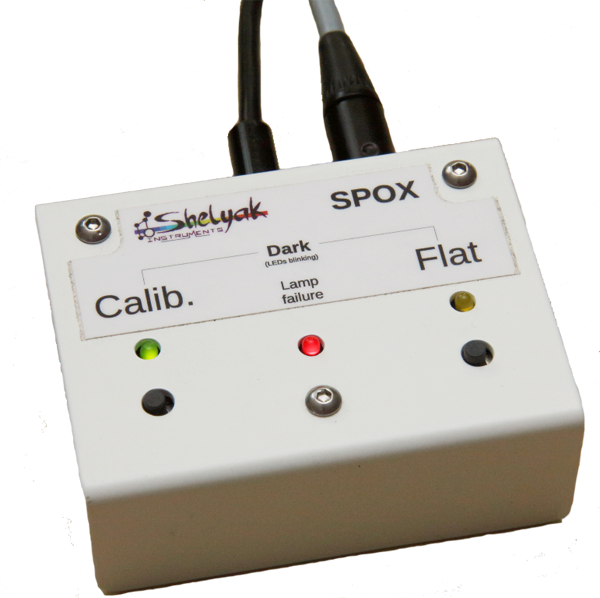 A red led indicates whether one of the spectrograph lamps is defective.
You can also control callibration lamps via a small dedicated software (available in the download section) or via an application using an ascom driver.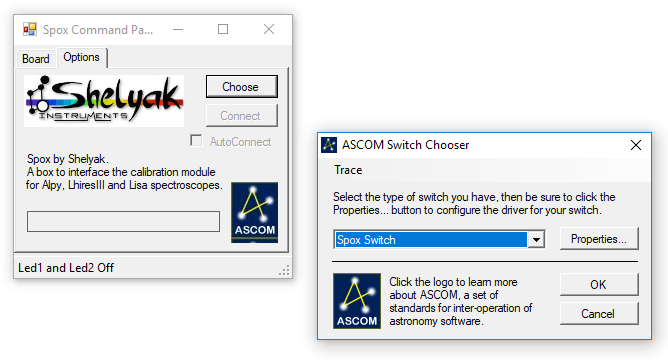 The SPOX module comes with its USB cord (2m) and in option, depending on your spectrograph and configuration, you can also choose the cable needed to connect SPOX with your spectrograph. You have the choice between 2 cable lengths:
• 0,8m • 5m
The cable is equipped at the both ends with a Tiny XLR 4 pin plug, allowing to connect it directly to your LHIRES III. If you own an ALPY 600 or LISA, an additional adapter will be required and included depending on the option chosen when ordering.
You will also need a 12V power supply.
The main module is compatible with the following spectrographs:
• Alpy 600
• LISA
• LHIRES III
Just the cable connecting the SPOX box to the spectrograph will depend on the type of spectro you have.
The SPOX module includes :
A 12 V DC input
A USB socket (delivered with a USB cable of 2m)
A tiny XLR 4 pin plug
• The WINDOWS application to control the SPOX module from your pc (file to unzip)
• The ASCOM driver (requires ASCOM platform V6.3 or higher, file to unzip)

• The INDI driver (refair to INDI website)