By Olivier Garde, Pascal Le Dû, Lionel Mulato,
Thomas Petit, Stéphane Charbonnel
Since the 2000s, many amateurs have been installing remotely controllable telescopes on sites in Chile in order to compensate for the lack of amateur observations on this part of the globe. These sites offer optimal observation conditions with very low seeing and more than 320 clear nights per year. The humidity level is very low and light pollution practically non-existent.
2SPOT (Southern Spectrocopic Project Observatory Team) is an association that was created by five amateurs in August 2019. This associative structure has set up a telescope in Chile that can be controlled remotely, dedicated to spectroscopic observations. These founding members are Stéphane Charbonnel, Olivier Garde, Pascal Le Dû, Lionel Mulato and Thomas Petit.
The primary objective of the association is to observe low luminosity objects such as certain Be stars or candidate planetary nebulae. But 2SPOT also takes care to respond to any request for observation of novae, supernovae, symbiotic stars or comets.
The site maintained by the company Deep Sky Chile was selected to meet the needs of the association.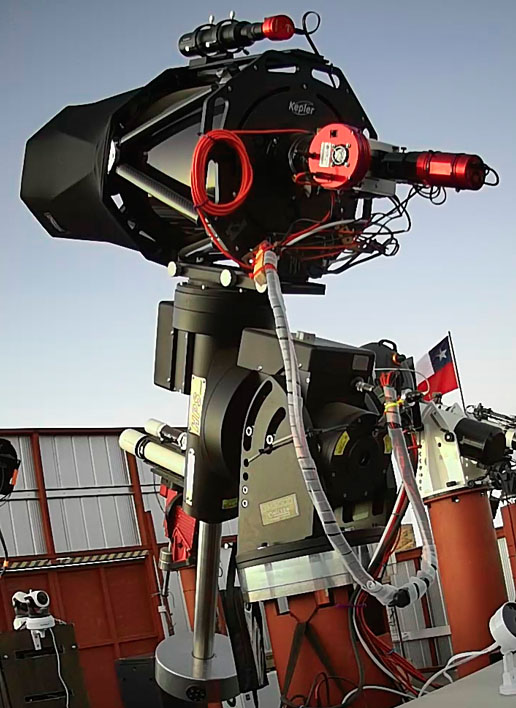 Our spectro setup: RC12 + ALPY 600 + ATIK 414ex: Photo credit © Deep Sky Chile
Among the many spectrographs in the Shelyak catalog, theALPY 600 was chosen because it lends itself very well to "remote" use. This spectrograph is in fact not very sensitive to temperature variations and mechanical stresses. The device is installed on a Ritchey Chretien telescope 305mm in diameter.
The assembly is mounted on a GM3000 HPS equatorial mount from the 10 micron company. This mount can support a payload of 100 kg. The spectral camera is an ATIK 414ex which has 6.45µm pixels, which makes it efficient for low magnitude targets. The guide camera, an ATIK 314L+, offers a wide field which is of great help for pointing objects.

1st raw spectrum obtained in Chile: V1078 Sco with an ALPY 600 ©2SPOT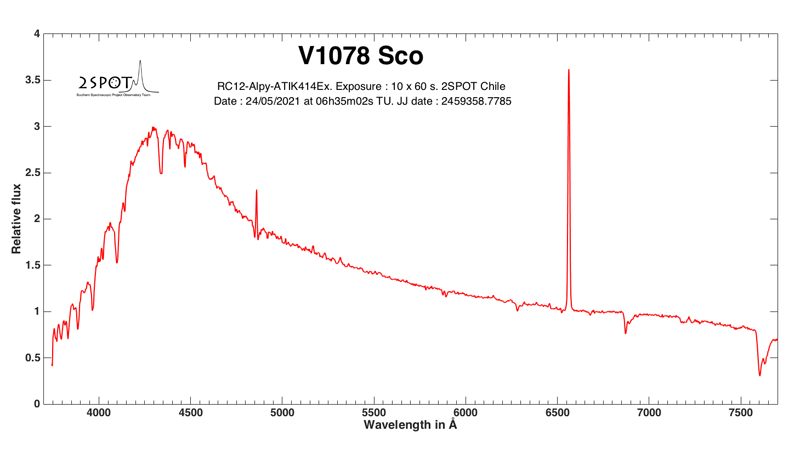 Graph of V1078 Sco ©2SPOT
Transport, installation and first spectrum
Spectroscopic observations
Observations are carried out on a regular basis, automatically or manually, via a remote installation control application. The internet connection is provided by a 4G key whose speed is sufficient to control everything, but also to repatriate the data to our server located in France, after each night of observation.
Over the past year, several hundred spectra have been produced on all types of objects: Be stars, candidate planetary nebulae, symbiotic stars, novae, supernovae, comets, etc…
Some observations have been the subject of publications:
RNAAS : Symbiotic star THA 15-31
ATel #15340
and other publications are currently in progress.
Evolution of our equipment
The experience acquired since this first year of operation has led the association to modify and complete its current installation with a second high-resolution spectrograph. Tests for the installation of this second eShel-type spectrograph are currently underway in mainland France. This high-resolution spectrograph will be installed on the 300mm RC telescope currently on site, replacing the low-resolution Alpy 600 spectrograph. The latter will be installed on a more open 300 mm Newton type telescope. The two telescopes (RC/eShel + Newton/Alpy 600) will be mounted in parallel on our mount which can easily support the load. Thus, with this new setup, 2SPOT will be able to acquire both high resolution spectra at R=11000 with a wide spectral range (3900-7600 Å), on bright stars, while continuing to acquire spectra at low resolution on more discrete objects, such as planetary nebulae.
The spectra acquired with the eShel spectrograph will better meet the need for monitoring Be stars in the south (Bess Base of the Paris-Meudon observatory).
This installation is planned for October 2022.
The exploitation of a spectrograph installed in the southern hemisphere makes it possible to benefit from many more exploitable nights than in France, with a clear sky devoid of light pollution. Very interesting objects, not visible from the northern hemisphere are accessible. For example, the center of the Milky Way (constellation of Sagittarius) which is very low on the horizon from France is much more accessible from Chile. Objects in this part of the sky can easily be observed over a longer period.